The Digital Partnership Stack
Cellxpert's user-friendly platform is designed to foster trust and transparency throughout every step of your partnership lifecycle. We'll do all the heavy lifting, so that you and your partners – be they affiliates, influencers, publisher ambassadors, or anyone else – can focus on strengthening your relationship, and strategizing for success.
A seamless, personalized onboarding process that makes both sides confident in your journey together is critical for your partnership's long-term growth. Cellxpert's onboarding experience sets the right tone with its built-in trust and transparency, so that you and your partners can start tackling your marketing challenges, as a team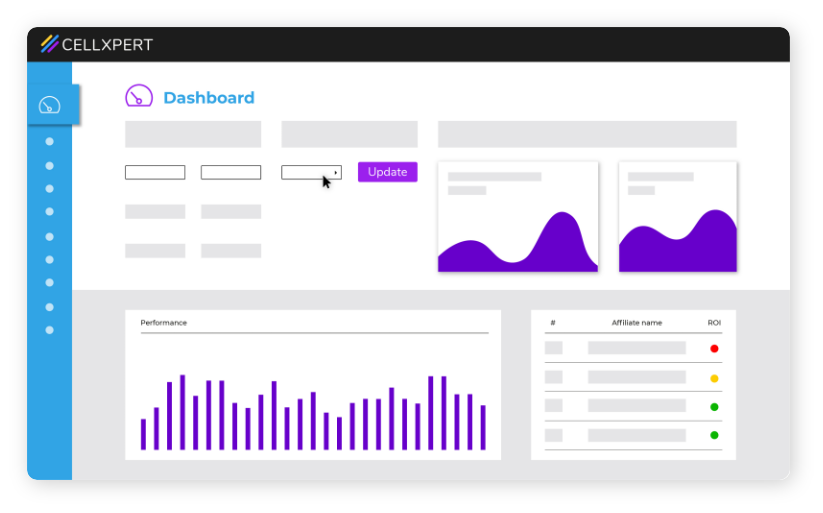 Our highly granular, real-time reports chronicle every conversion, event and transaction in your marketing campaign's journey, so that you're absolutely certain that you're making the best decisions with every partner in your roster. You'll have the option to decide which data to share and manage among your partners, so that they can, in turn, collaborate in pursuing your business goals.
Fueled by our robust API system, our reports are based on accurate, real time, duplicate-free data pulled straight from your CRM and backend. Our reports gives you insights into exactly how your affiliates generate traffic and profit. You and your internal teams will be able to break down the reports according to a vast range of elements that could be impacting your ROI, including geographic location, the campaign's partners, the types of traffic source, and the devices used by your customers.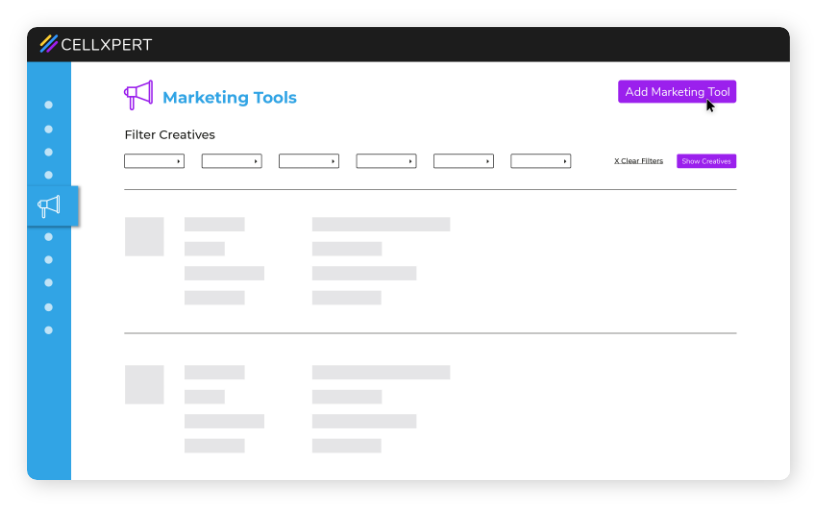 Cellxpert's dynamic marketing tools hub offers robust ad-server capabilities and support any kind of native HTML5 creatives and formats- from banners to landing pages, mailers and videos. Quickly upload and push campaigns in a single click. Easily allocate and rotate the right creative, with the right message, to the right partner based on Geo, so that your message is always compliant and is always appropriate for your target audience.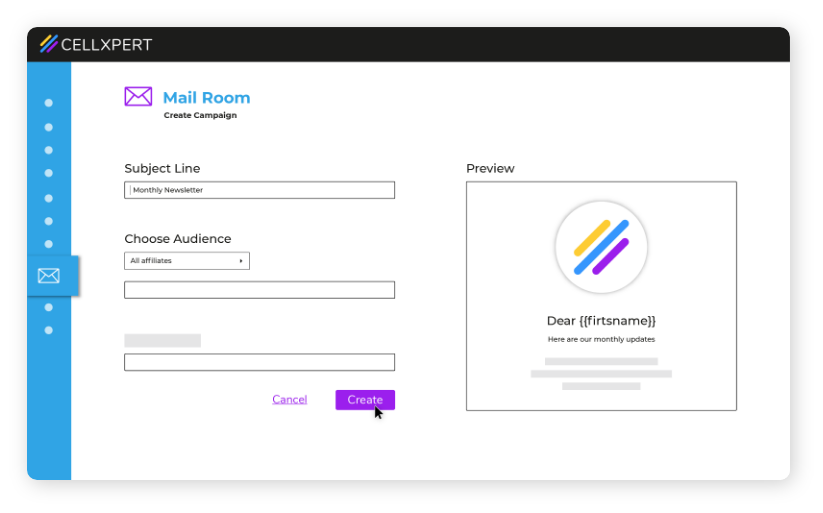 Cellxpert's personalized, at scale, mail room enables you to communicate with your diverse pool of partners in a way that makes sense.
Segment your affiliates according to performance, behavioral trigger, geographical location, or any other categories. Then, tailor their messages to make sure that they're always incentivized to grow your business. Everything takes place in our centralized system, so that you can get your messages out in the most efficient way possible.
Cellxpert's assorted tools keep you compliant with regulation and licensing rules, wherever your business may be. With our transparency-based system, you'll have the power to mitigate risk and gain control over your site's incoming traffic.
Define your settings by region, country, or even domain to ensure that all whitelisted visitors are welcomed to your site, while all blacklisted visitors are automatically redirected.
To ensure that your platform complies with GDPR rules, we always encrypt all of your data.
Contributing At Any Scale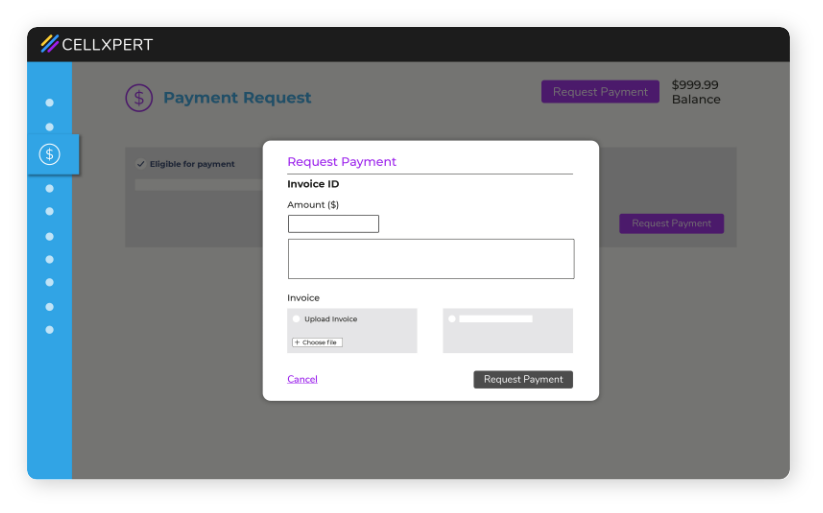 Cellxpert logs all of your conversions, events and transactions, so that payout calculations are effortless and streamlined. That way, your partners can trust that they're valued by your business.
Our payment reconciliation process cuts through the bureaucratic noise with a compensation setting system, including options like monthly deadlines, minimum thresholds, and systemized invoices, so that you can make payments and keep tabs on the affiliates contributing most to your business, at any scale.
Cellxpert will become an integral part of your website. You'll choose your domain name, the logo on your login form, and customize your email features — helping to create a seamless and engaging experience with your partners, from the very beginning.
Cellxpert uploads and stores all of your affiliates' documentation, so that you'll never need to worry about compliance or liability issues. Whether in Hong Kong or New York, we make certain that your affiliates are legit and in full compliance with local regulations, so that you can make the most of your partnerships.
Cellxpert allows you to personalize compensation models so that your affiliates – high-earning veterans to newly onboarded partners alike – are incentivized. You'll have the option to choose from CPL/CPA/CPS, Revshare, or Hybrid commission models, as well as an additional qualification tool, to ensure that you're only working with affiliates who are valuable to your business.